On October 30th and November 1st Feyo Sickinghe and Marjolein Geus hosted the Ntegra, Bird & Bird European Technology summit 2019 in the Netherlands. Feyo Sickinghe and Andy Jefferies, CIO at Ntegra selected start-ups and scale-ups to present for a UK audience consisting of representatives of Baillie Gifford, Coventry University, Head resourcing, EPO, Nationwide, Taranata Group and KPMG.
Day one was hosted by Bird & Bird The Hague office, with day two at start-up accelerator Rockstart in Amsterdam. Feyo Sickinghe opened the tour through giving an overview on the European regulatory landscape with respect to the new European Commission, AI and platform regulation explaining the role of the regulatory and public affairs team play in bridging businesses and government, so government can understand the impact of regulation and try to design policy with minimal 'collateral damage'.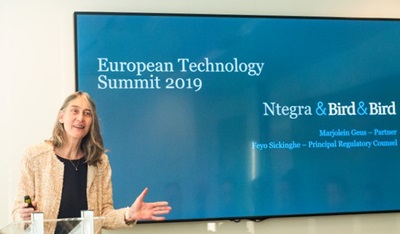 Key takeaways of Feyo Sickinghe, principal regulatory counsel, Bird & Bird.
1. In the platform economy it is all about creating a feedback loop on the basis of data and network effects. For instance, ING bank sees itself as an IT company with a banking license.
2. Artificial intelligence: Every company needs to do data analytics. If do don't, you're gone in five years. We are on the edge of predictive analysis. The next step is prescriptive analysis.
3. Anomaly detection in network behaviour can create added value in detecting malicious intent to ensure cyber security. Sight Labs has developed an anomaly-based clustering toolkit. Next step: predictive behaviour tool kit
4. Data is becoming a monetized asset that companies are considering to put on their balance sheet
The morning sessions began with Dr Eduardo Barbaro, the lead Data Scientist IBM Benelux presenting on how big data and AI are reshaping the business world, providing his view on the reach and impact of AI and the big issue of big data and how in order to survive in today's environment every company needs to do data analytics. He provided practical examples of how companies such as Spotify and IBM are utilising AI to gain competitive advantage and better understand their customers and products.
We then heard from Daniel Worm of TNO, TNO connects people and knowledge to create innovations that boost the competitive strength of industry and the well-being of society in a sustainable way. Daniel presented on how TNO is helping to resolve the problem of organisations sharing information securely without revealing underlying sensitive data by developing innovative and secure techniques based on Secure Multi-Party Computation (MPC). He provided various examples of MPC including:
- The collaborative analytics by banks of transactions to detect financial crime without having to share data;
- Privacy-preserving analysis in health care;
- Confidential benchmarking, privacy-preserving recommender systems, finding missing convicted individuals without violating privacy; and
- Predicting heart failure hospitalisations using MPC.
The afternoon sessions saw presentations from a variety of start-ups, scale-ups and early to market UK companies:
- SynerScope - Presented by Harry Huisman, director of Business Development, SynerScope provides a visualisation platform for unstructured data/documents. Their product is designed for 'Citizen Data scientists'. These are users who's primary job is not in data, but are experts in their business function, effectively, it's a self-service business tool which can auto classify data. SynerScope provides interesting search technology for instance for retail analysists.
- Vamp.io – the very knowledgeable Nico Vierhout, CEO of Vamp.io presented on the subject of DevOps and that releasing can often be the CI/CD bottleneck and that companies could lose sight of their business agility goals and must be reminded that DevOps is not a goal itself but an enabler.
- Alpha.one- Alpha.one uses MRI scanning and eye-tracking technology to offer neuromarketing research services, Coen Olde Olthof, CEO of Alpha.one was Thursday's stand out speaker of the day and taught our attendees that science trumps opinion and that Alpha.one changes points of view into data points.
He provided several insights on what drives engagement in advertising, and brands need to understand the science to help them tune their adverts. An example included when to crop off the top of a person's head in picture placement to avoid detracting from other messaging.
- Doculayer- Doculayer provides a platform to extract features from document management solutions (DMS) to auto-classify and structure content, the platform was presented to our attendee by Interim CEO, Rene Van Stiphout.
- Iotic - Iotic have built an event-driven platform on top of Kafka, to provide their version of a digital twin concept. John Hicklin and Mark Wharton of Iotic interoperability proposition helped the attendees to understand the wider commercial application, both for legacy and near real-time event-driven applications.
- Tocalabs - Tocalabs have written their own Remote Desktop (RDP) functionality, which allows their bots to run in the cloud. Presented by Mat Rule & James Swash, Tocalabs negates desktop rollout in many use cases - their proposition is a lighter weight deployment model.
Tocalabs have built their business out of a services one, where they found some of their initial clients based on their previous consulting works. Tocalabs have recently taken on seed investment and matured their product, with the next major release due in February.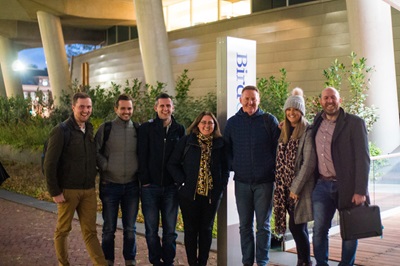 Day 2
Day Two of the Technology Summit was hosted at start-up accelerator Rockstart in Amsterdam. Rockstart is one of Europe's first accelerators, and it focuses on four domains – Energy, Health, AgriFood, and Emerging technologies. They provide start-ups with access to the market, to capital, community, and expertise by connecting them to partners, investors and mentors and the wider Rockstart network. Here Alexis Podolny, Tockstart Commercial Director gave insight into how accelerators work and how they fit into the ecosystem.
At Rockstart a variety of start-ups presented to our attendees showcase their innovations and insights.
- Opt/Net – Opt/Net was founded by Taras Matselyukh in 2018, and they have developed their product in C to ensure it performs with minimal compute. Their OptOSS AI platforms ingest machine data to help determine time-critical anomalies with their product is targeted at the Telco space (OSS stands for Operational Support Systems in Telco parlance, and it means the systems that support the radio networks, rather than the Business Support Systems that support customer care, billing etc.) A key takeaway from this presentation is how start-ups can verticalise with their product to provide a deeper, more specialist proposition while still, shifting into connected verticals to broaden their appeal too.
- Netdialog - Netdialog is an established vendor providing network and application performance management. They came with Sightlabs to announce their partnership with this new start-up, in the field of Cybersecurity network anomaly detection. Sightlabs ingests network data and uses ML Deep Learning to provide anomaly-based clustering to find unknown intruders, positing themselves to address the advanced Criminal organisations rather than State Actors.
- Botsquad - Botsquad is omnichannel and can be applied in websites and web apps, voice assistants, messenger apps, and collaboration tools such as Slack. Founder Anne Bakker was very knowledgeable about the topic of conversational AI, and offered useful insights to our attendees. One of the key takeaways was Anne's assertion that mobile apps are dying where instead features such as Voice UI, Automation, Natural Language Processing and AI-driven search features, web and chat interfaces were becoming much more powerful and convenient.
- Edgeinfra - Another new start-up, this time, offering microdatacentres, offers the concept of an edge-computing offer, providing a micro DC in a container form factor. CEO & Founder Cara Mascini is currently going through a funding round and reviewing if they will accept funding from a strategic investor or otherwise and the benefits and challenges this poses.
- V-ID - A young but growing scale-up is using blockchain for anchoring - storing the fingerprint of the asset (digital or physical) in the Blockchain. V-ID provide a service layer on top of multiple (6) Blockchains. Founder Marnix Van Der Berg's presentation led to discussion on some physical use cases such as fine art, whereby the authority create a certificate demarking the physical attributes which certify the valuable painting is authentic when the certificate is anchored in the Blockchain as well as a discussion on supply chain transparency, whereby Blockchain would enable end consumers to see the source of the product.
The final session of the day was a demo led by Alex Dowdall founder and Partner at AXVECO who presented on how key technologies are being applied in innovative projects in The Netherlands. This included looking into the new applications of machine learning and our attendees tested their skills by building an automated ML model using the BigML.com website.
The European technology summit 2019 in the Netherlands provided attendees an opportunity to explore the innovation, entrepreneurship and creativity coming from Europe, while making introductions with a number of exciting tech companies who are creating new innovative business solutions through technology.