Keeping things running smoothly across your legal projects can be complex. You need access to the right skills at the right time and in a way that's as cost and time efficient as possible. Our Legal Project Delivery team works seamlessly with our lawyers to ensure that our delivery of legal matters is just that.
By ensuring you have access to the expertise of qualified legal project managers (LPMs), process optimisation professionals (LPOs), and data analyst specialists (LDAs), combined with with a tried-and-tested approach and next generation legal technology, we can help you maintain control, simplify your processes and gain maximum value from all your legal projects.
Legal project delivery built around you
Our robust legal project management framework is designed to ensure you have all the information you need because it's focused on communication, efficiency, and control. And we use data driven insights to identify trends and anticipate project developments so we can proactively adapt our approach to give you the best service.
Legal Project Management
Full support throughout the project lifecycle
Bespoke tracking and reporting
Stakeholder engagement
Communication planning
Timeline and milestone mapping
Budget and resource monitoring
Risk management
Process Optimisation
Discovery sessions to identify key challenges
Process mapping
Review of existing processes to highlight inefficiencies
Data backed options and recommendations
Support with change implementation
Data Analysis
Identification of trends
Forecasting
Analysis to support data driven insights
Application of previous lessons learned
Final project report (where appropriate)
What this means for you
Our multi-disciplinary service offering allows us to continually learn, evolve, adapt, and drive innovation in real time with our clients and our colleagues. This results in greater collaboration, efficiency, knowledge sharing - and ultimately, reduced effort and legal spend for you.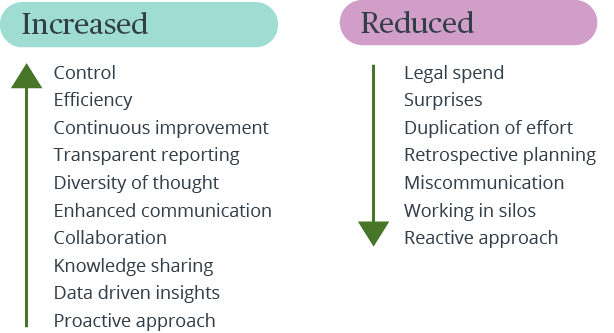 We also use legal technology to drive efficiency
We've always been passionate about using LegalTech in the delivery of legal services and have been working with LawAdvisor to support the development of a client collaboration platform, Fibonacci.
Fibonacci allows our clients to manage matters with all external counsel in one platform. It also provides full transparency over workstreams involved in the delivery of a mandate, real-time updates, document sharing, and collaboration.